STEVE HARRISON "BIG IN JAPAN"
FRI. 26TH APRIL - SUN. 26TH MAY, 2019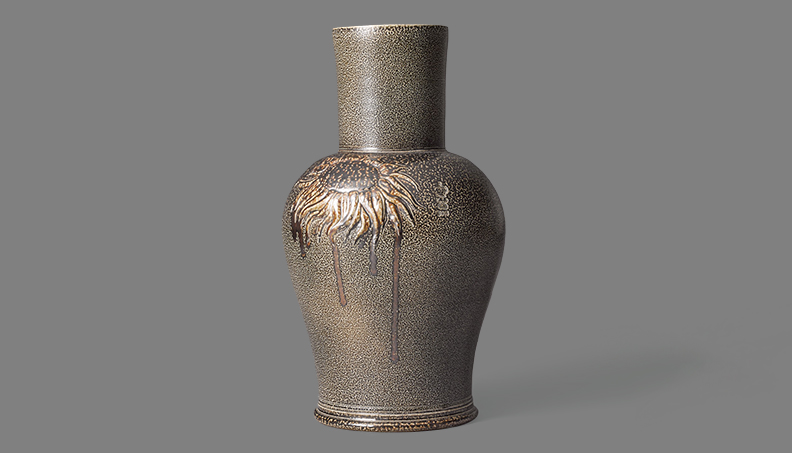 Steve Harrison's "BIG IN JAPAN" will take place at our venue, AT THE CORNER in Tokyo. From Harrison's thoughts on his new works which challenged the study of proportion to his creative process and his biography, we bring you an exclusive feature together with the exhibition.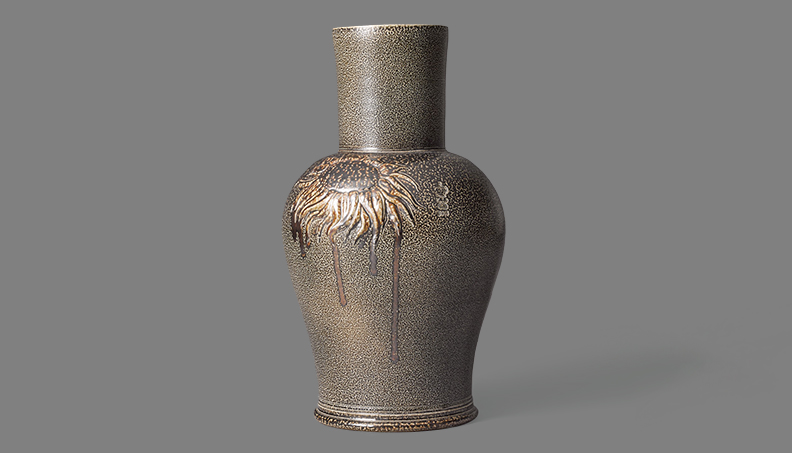 A Study of Proportion
Sonya Park first suggested the idea of increasing the scale of my works during my last exhibition in Kyoto, The Potter's Pots. At first, I was indifferent to the prospect of simply making my pots on a larger scale, but when she came back to me several days later and said, "I've got it—BIG: a study of proportion," I was suddenly captivated.

The largest pots in this exhibition represent a two-year investigation into the complexities of size and proportion, and the selection spans from the very first firing through to the last. I did not consciously plan to show the process, but rather came to an intuitive understanding that each firing was as important as the next and the process was as revealing as the end result. The later pieces would be incoherent if I omitted their predecessors, especially in the context of an exhibition in which all of the larger pots were fired with coal.

Charles Darwin once wrote, "I am a firm believer, that without speculation there is no good and original observation." This approach helped me to understand and re-invent the process of salt glazing that was second nature to me. Sometimes the biggest obstacle is not to change what I do, but rather to change how I think. Looking back through my notebooks, I find an initial rumination from the first firing at Errington Reay in 2017: "These pots cannot be unmade, they help me gather reasons to continue. The acute surprise of the coal firing is incongruous to almost everyone who is familiar with my work; the pots test the opinion of the observer and, placed alongside my usual work, look like defects. Yet they exist as great achievements which challenge a known orthodoxy that is well versed in years of practice. These pots stand without any rehearsal and ask searching questions about who I am as a maker."
A technical note
Some of these pots have bits/scars on their surfaces due to the firing atmosphere of the coal kiln and the amount of coal ash produced at the end of the firing. As a way of highlighting these blemishes, I have used urushi lacquer and gold leaf, treating the pots in a more sculptural fashion. This should not be considered a repair, but an acknowledgment of the extraordinary nature of these pots and an acceptance of their imperfections.

Although I made and fired more than 150 of the largest pieces, the successful pots among them number fewer than thirty. Some of the qualities of the glaze, color, and pattern of my pots remind me of the Martin brothers' work, which led me to place some pieces on plinths as they did. Perhaps they shared my feeling that when you make so many pots with such a low success rate, the few that have a certain magic must be celebrated.
About Steve Harrison
Biography

Steve Harrison was born in Wallsend in 1967. He discovered his love of pottery in school while studying the subject at the advanced level. His captivation quickly led him to set up a workshop in his grandparents' garage so that he could work constantly both at school and at home, achieving highest marks in half the usual time allotted for the course of study.
After graduating from university with a first-class honors degree, he entered the Royal College of Art (RCA) master's program in ceramics, graduating in 1993. The following year, he set up his workshop in north London and his salt kiln in Wales, and to this day, continues to transport pots back and forth between these two work places.
With many awards, publications, and prestigious commissions to his credit, including works commissioned from Kensington Palace, Steve's attention remains firmly on the most exciting thing: the next person who will buy one of his cups and use it in his or her everyday life.


Material and processs

Clay is an unassuming material. It is the earth we stand on. Unlike gold or silver, it has no perceived value. Its worth consists solely in what the artist brings to it. A potter in the first stages of learning is led by the material. This is also the state of mind and practice to which a master returns: to be led by the material.
Upon graduating from RCA, Steve was already aware that salt firing would be the focus of much of his working life. He applies slips and glazes like impasto in oil painting, and with salt, leaches out the color to create the subtlety one finds in watercolor. As he fires the kiln, he begins its destruction. On average a kiln will last about ten years, with five to six firings per year. The process is a dialogue between the skill of the potter, the kiln itself, and the weather. One or all of these factors can determine a good or bad firing. Today, with an accumulation of more that thirty years of experience as a potter, Steve is still fascinated and challenged by the act of placing salt in a kiln at a high temperature, a process that yields endlessly surprising and unpredictable results.


Tea

Tea plays a central role in organizing Steve's day. The activity of making tea encompasses both the social occasion and the solitary moment. He loves the anticipation that builds from the point he draws the water and lights the stove. He slows down immediately, choosing a tea which best suits his mood. So many flavors come from the same tea plant, and just as vast a variety of ideas and forms take shape around the notion of a cup for tea. The study of this one thing leads to everything. Tea not only provides a refreshing tonic, but shows him a way to live and work in harmony.


Steve's cup

Steve Harrison has owned and broken many cups during his life as a potter. His latest cup is delicate like an eggshell, translucent like a gemstone, and ergonomic like a natural extension of the body. It is glazed in a way that challenges anything he has seen before. Steve will enjoy it, beautifully balanced in his hand and filled with tea, until the devastating moment when it too is no more.Since the age of sixteen, the tea cup has been the foundation of Steve's inquiries into form, function, and use. A bowl is a beautiful form, but more universal. A cup with a handle is more specific and rooted in his western upbringing. Steve loves the playful nature of the handle, the interaction of hand and finger, and how a tea cup feels, fits, and balances. The inspiration is endless.


INFORMATION
TITLE

STEVE HARRISON "BIG IN JAPAN"

DATE

2019.4.26 (Fri.) — 5.26 (Sun.) / 12:00 — 20:00

SHOP