Perfumer H
Candles & Others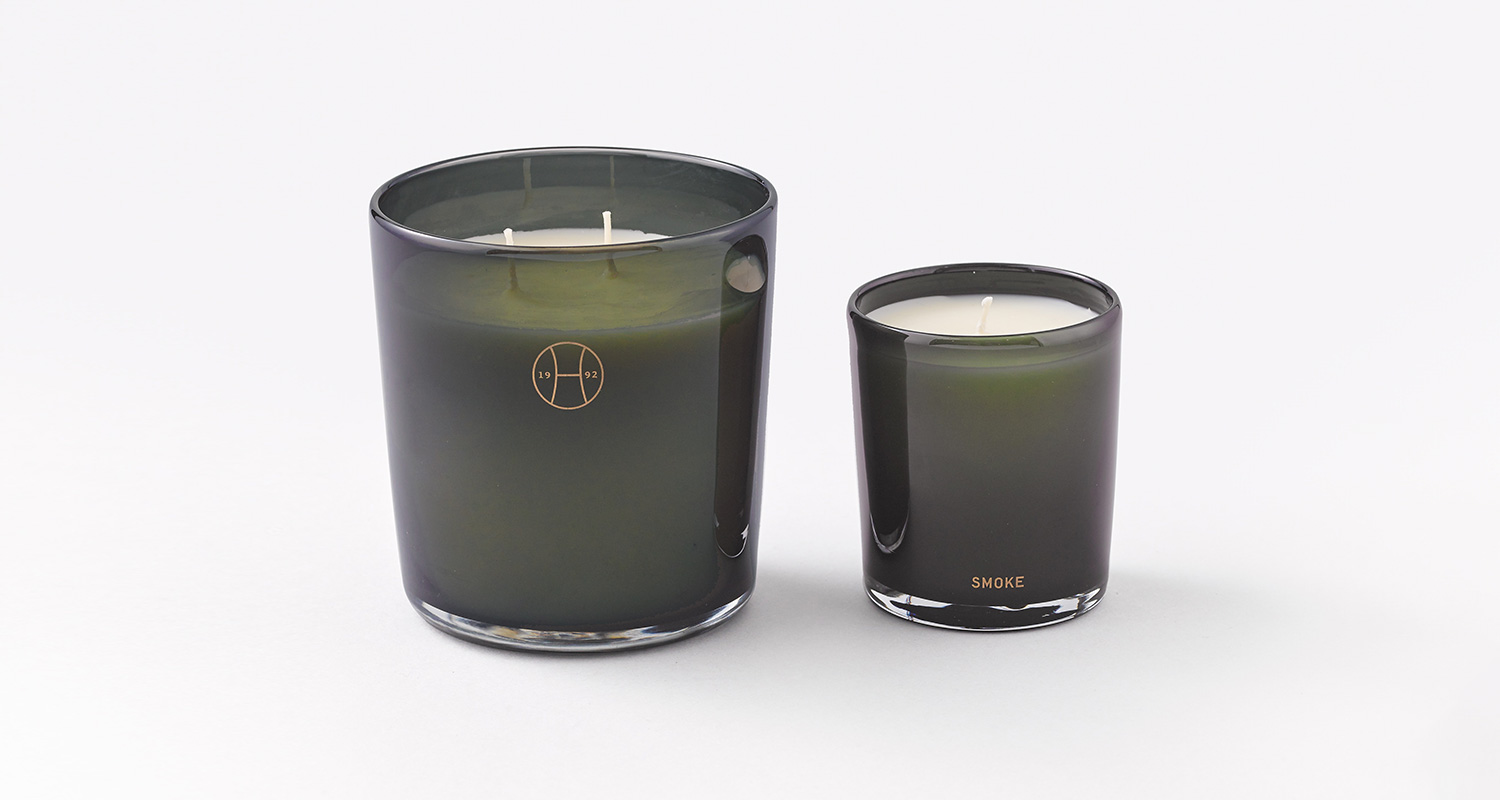 Perfumer H's handblown glass perfume bottles and candle jars are designed and made in close collaboration with British glassmaker Michael Ruh. The design process has been deeply focused on color from the start, and the palette has evolved through trial and error in response to the unique sensory image of each scent. Each glass bottle or jar is handmade and slight variations in color and size are a natural part of the design.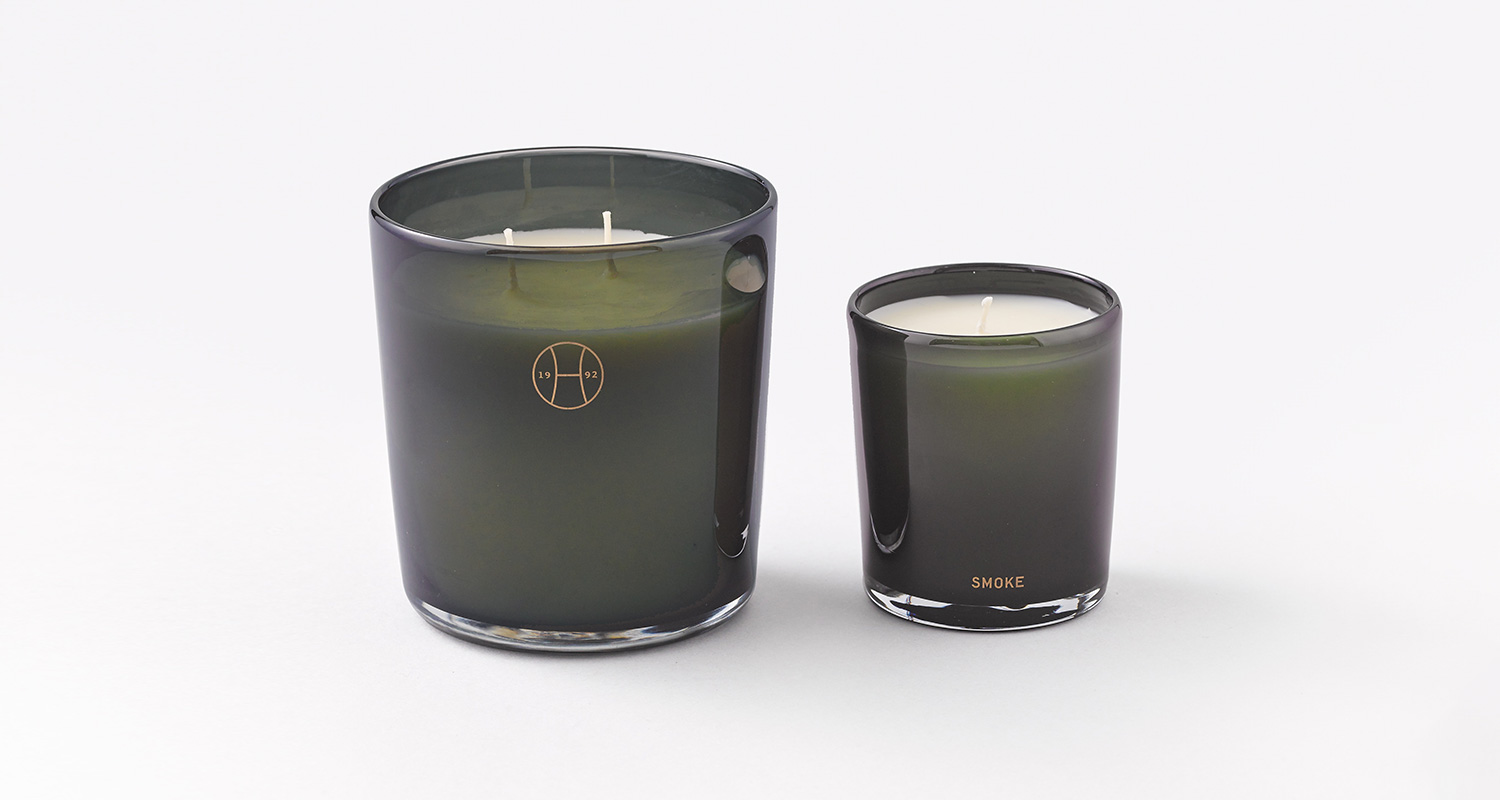 Candles
Perfumer H candles extend the brand's philosophy of fragrance to create a relaxing sensory journey right at home. These candles have a fragrance concentration of up to 12 percent. To mark the introduction of the brand in Japan, Perfumer H has developed the scented candle Woodland exclusively for ARTS&SCIENCE.
MARMALADE [Citrus] ¥19,000
Seville orange, petitgrain, eau de brouts absolute (a distillation of leaves and twigs of the orange tree to give a burnt bitter note) fused with lavender, rosemary, and angelica to create a lingering scent that you can almost taste. A good choice for cleansing.
KEYNOTE: orange, petitgrain, eau de brouts absolute, lavender, rosemary, and angelica.
DANDELION [Floral] ¥22,000
Green leaf and basil wrapped around a heart of honeysuckle, tagètes (marigold), and neroli resting on a bed of oak moss and vetiver to capture the first lingering notes of spring. A scent to remind us of childhood.
KEYNOTE: green leaf, basil, neroli, tagètes, honeysuckle, patchouli, and vetiver.
FERN [Fern] ¥19,000
Argentinian pine, Iranian galbanum, and French cypress fused with elemi and juniper berry resting on a bed of Virginia cedar and pine needle to celebrate one of the most memorable and heartening olfactory experiences.
KEYNOTE: pine (Argentina), cypress (Italy), galbanum (Iran), frankincense, and cedarwood.
WOOD LAND [Wood] ¥22,000
An escape with cedarwood and juniper wood fused with cypress and eucalyptus with hints of frankincense to create a sensual green woodland wherever you are. A fragrance developed exclusively for ARTS&SCIENCE to help heal one's spirit in a robust city.
KEYNOTE: cedarwood, juniper wood, cypress, eucalyptus, frankincense, galbanum, elemi, and angelica.
FRANKINCENSE [Wood] ¥22,000
A sensual feast of burning frankincense resin with elemi and galbanum combined with smoldering wood embers of cade, cedar, and sandalwood to refresh and clear the mind in moments of concentration and transition (such as jetlag).
KEYNOTE: frankincense, cade essence, juniper wood, and cedarwood.
Large candle
The large candle is very special and they take our glass blower a day to make each one. It is for larger open spaces where and for those who like the beauty of its form. It can be used as something ornamental as the smell will exude even when it isn't lit. It burns for a total of 150 hours.

【Candle wax】650g【Sold by order, delivery time】1 ~ 2 months【Colors】Smokey grey, Brown, Moss, Blue grey, Aubergine, Steel blue
Reusable Candle Jars
The glass bottles and candle jars are made to last a lifetime, and each unique vessel is intended for reuse. At Perfumer H's flagship shop in the Melbourne area of London, customers are offered a refill service for their used candle jars. To remain true to this design concept, Arts & Science will offer the same service in Japan. Customers will be able to request candle refills of fragrance selections offered by A&S in Japan. For details please click here.
Incense
This item was inspired by a perfumer's love of traditional incense and is manufactured by a specialist in Kyoto who provides incense for the local Buddhist temples and monasteries. Each stick is rolled by hand and made without dyes, chemicals, or additives.
WOOD LAND 30本入 ¥4,400
Escape to a sensual green woodland wherever you are. Cedar and juniper wood fused with cypress and eucalyptus; galbanum and elemi with hints of frankincense. Woodland is a fragrance developed exclusively for Arts & Science to help heal one's spirit.
KEYNOTE: Sandalwood, patchouli, sweet musk

*All listed prices are excluding tax.