Perfumer H
Collaboration vol.1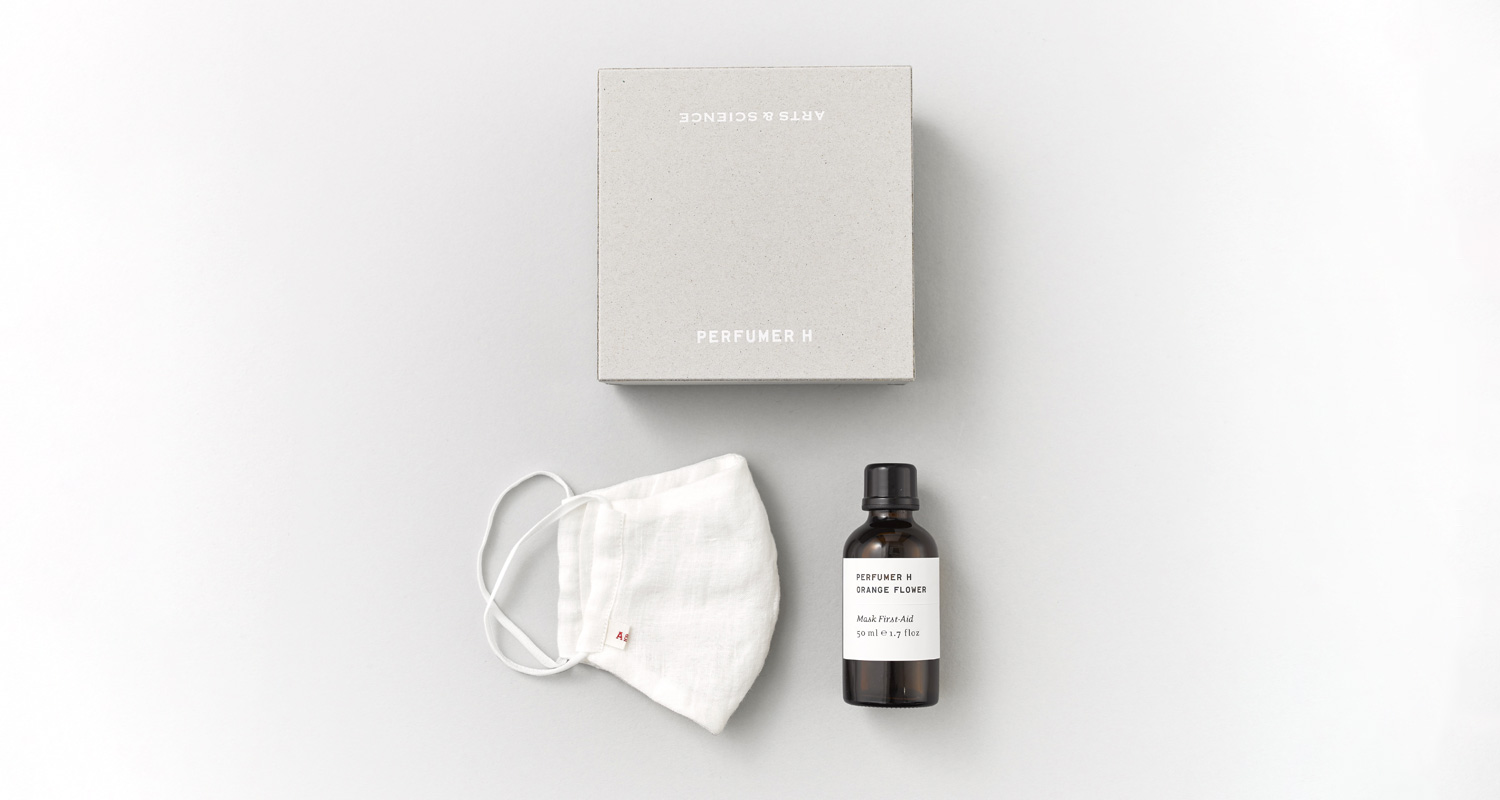 ARTS & SCIENCE first introduced the products of Perfumer H to Japan in July 2020, and we are delighted to share our most recent collaboration with the fragrance brand. Designed to bring a distinctive sensory pleasure to our daily safety routines, a special Mask First-Aid Kit is now available at our online pop-up shop, A&S Aoyama and &SHOP Kyoto. Perfumer H's creative director and perfumer, Lyn Harris, shares her thoughts about our collaboration below.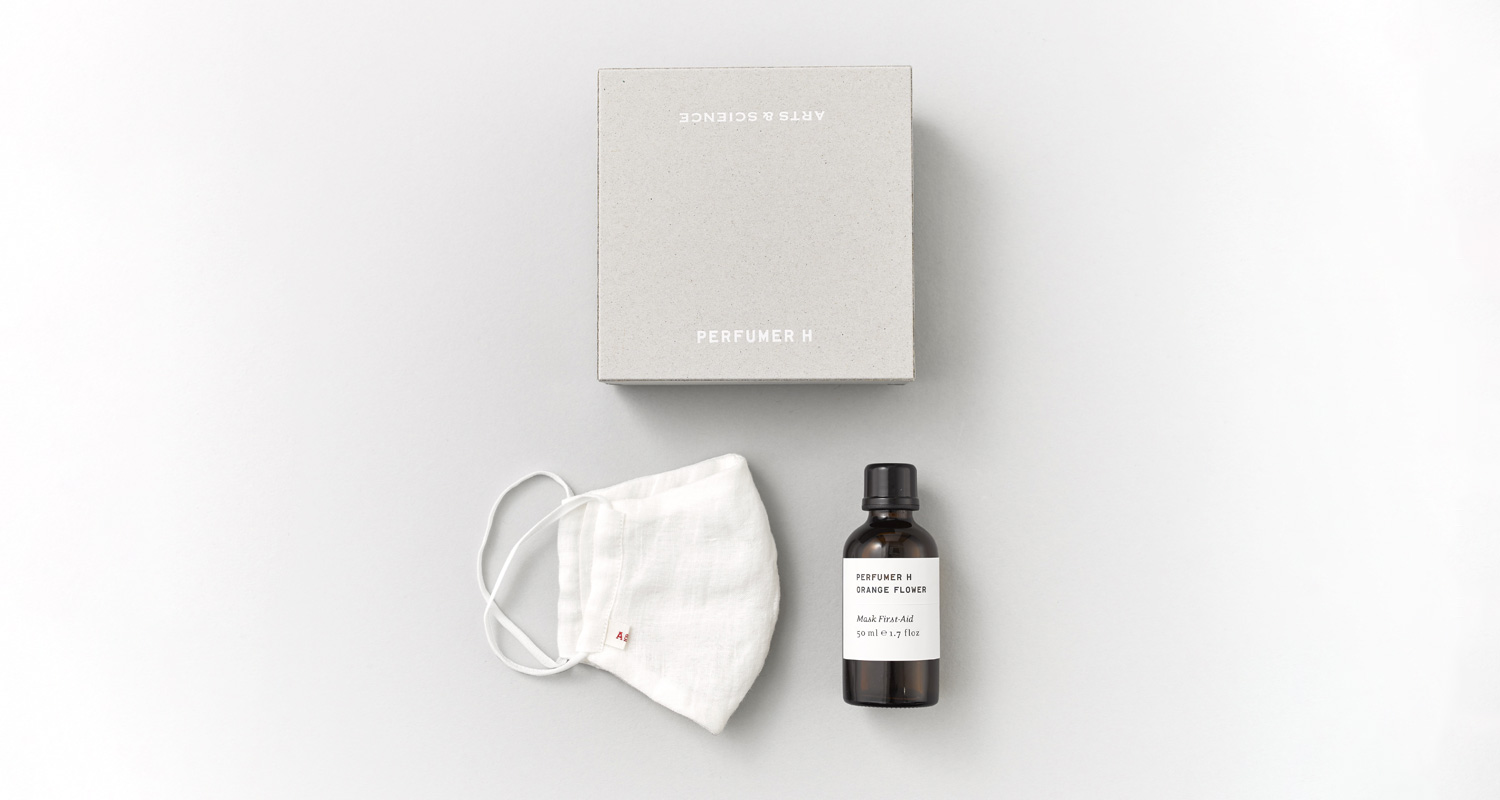 Mask First-Aid Kit
Mask First-Aid Kit includes one fragrance and one A&S original mouth cover.
Covering the mouth and nose has become a custom and expected etiquette as we endeavor to protect each other. With the Mask First-Aid Kit, we aim to impart a sense of refreshment to this responsibility. The set comes with one bottle of your preferred Perfumer H Mask First-Aid fragrance and one original face covering made by A&S, presented in a specially designed box.
Sprinkle 2-3 drops of fragrance onto the interior of the mask to refresh and invigorate the senses. Repeat as desired.

Fragrance Oil
Two fragrances are available: ORANGE FLOWER, which evokes qualities of freshness and citrus, and CUCUMBER, a cool and green scent. These fragrance oils are made with natural ingredients to the fullest extent possible.
*The fragrance can also be used in a spray bottle to use on bed linen or as a room spray.

Face Covering
A&S face masks are constructed with three layers of our original super-fine linen gauze. A filter can be placed between the layers if desired. The mask is available in two sizes and two colors, navy and white.
From Lyn Harris
Creative Director and Perfumer of Perfumer H, Lyn Harris at her laboratory/shop in Marylebone.
「I created the Mask First-Aid CUCUMBER and ORANGE FLOWER scents during lock down after a conversation with our Japanese partner, Sonya Park of ARTS & SCIENCE. Sonya told me about her experience wearing a face covering, which is an integral part of the Japanese culture, and suggested that it would be so great if I could create something to help make this new necessity much more pleasurable. She had created a beautiful 100% linen face mask with some local artisans, using a fabric that is not only the finest linen in Japan but is also naturally anti-bacterial. She described in detail how the mask rests softly on the skin and how the shape was carefully designed to incorporate different nose shapes. I was deeply intrigued. I had never worn one before, but I knew instinctively that I had to create something completely natural. I thought of orange flower for its simplicity and beauty and, in contrast, cucumber, which is very neutral and, with a touch of mint leaf, gives a pleasant freshness. 」
INFORMATION
ITEM

Mask First-Aid Kit

FRAGRANCE

Orange flower, Cucumber

FACE MASK

Color: White, Navy / Size: 1, 2

PRICE

9,500 yen (+ tax)

SHOP