Perfumer H
Brand & Story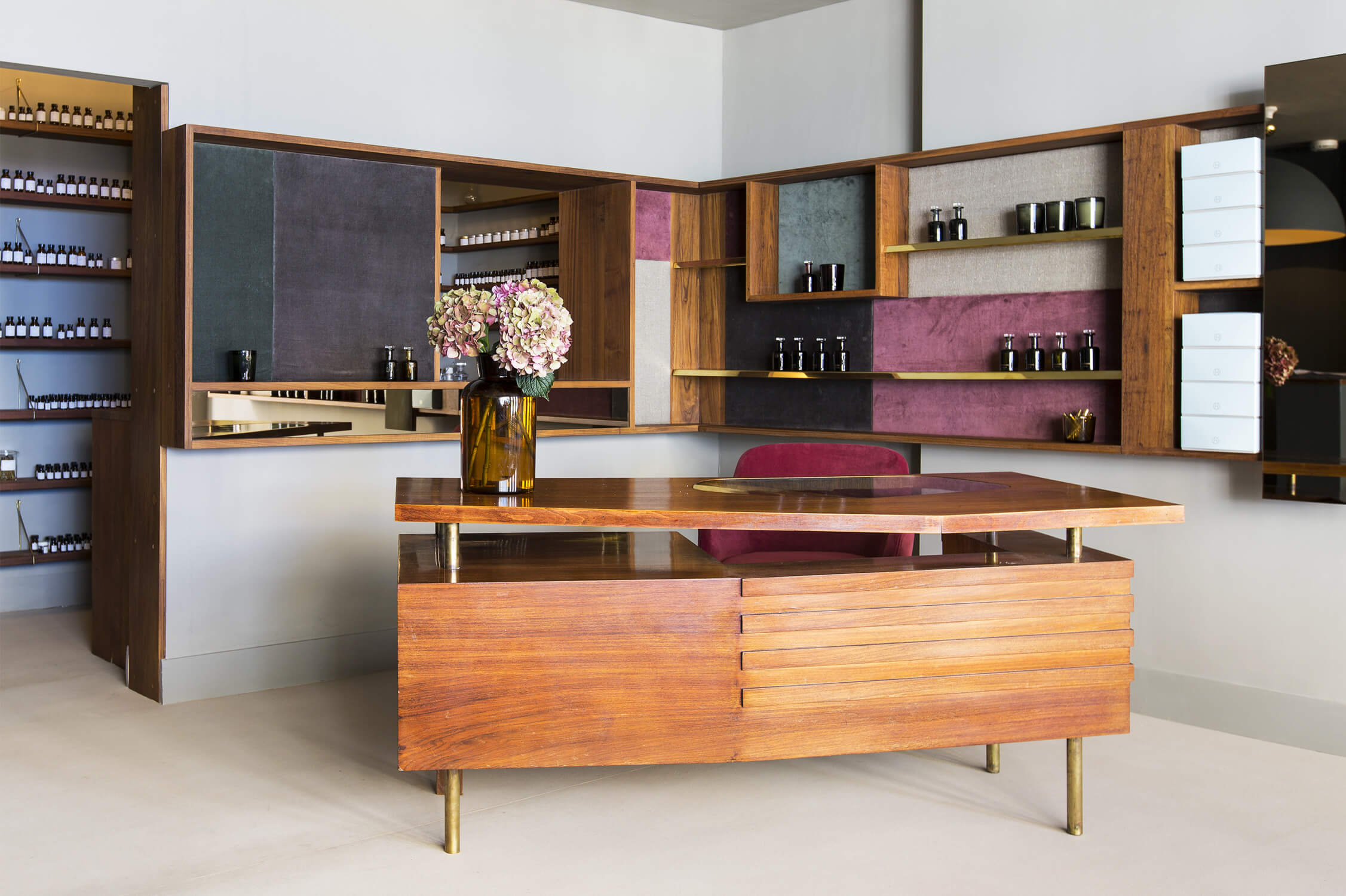 ARTS & SCIENCE is delighted to introduce the fragrances of London-based Perfumer H for the first time in Japan with a special presentation at Arts & Science Aoyama in Tokyo and & SHOP in Kyoto. We invite you to experience perfumer Lyn Harris' world of simple, original scents, each born of an inquisitive mind and exactingly selected ingredients. In the feature Brand and Story, we introduce Harris in her own words and highlight our collaboration to create unique items for A&S.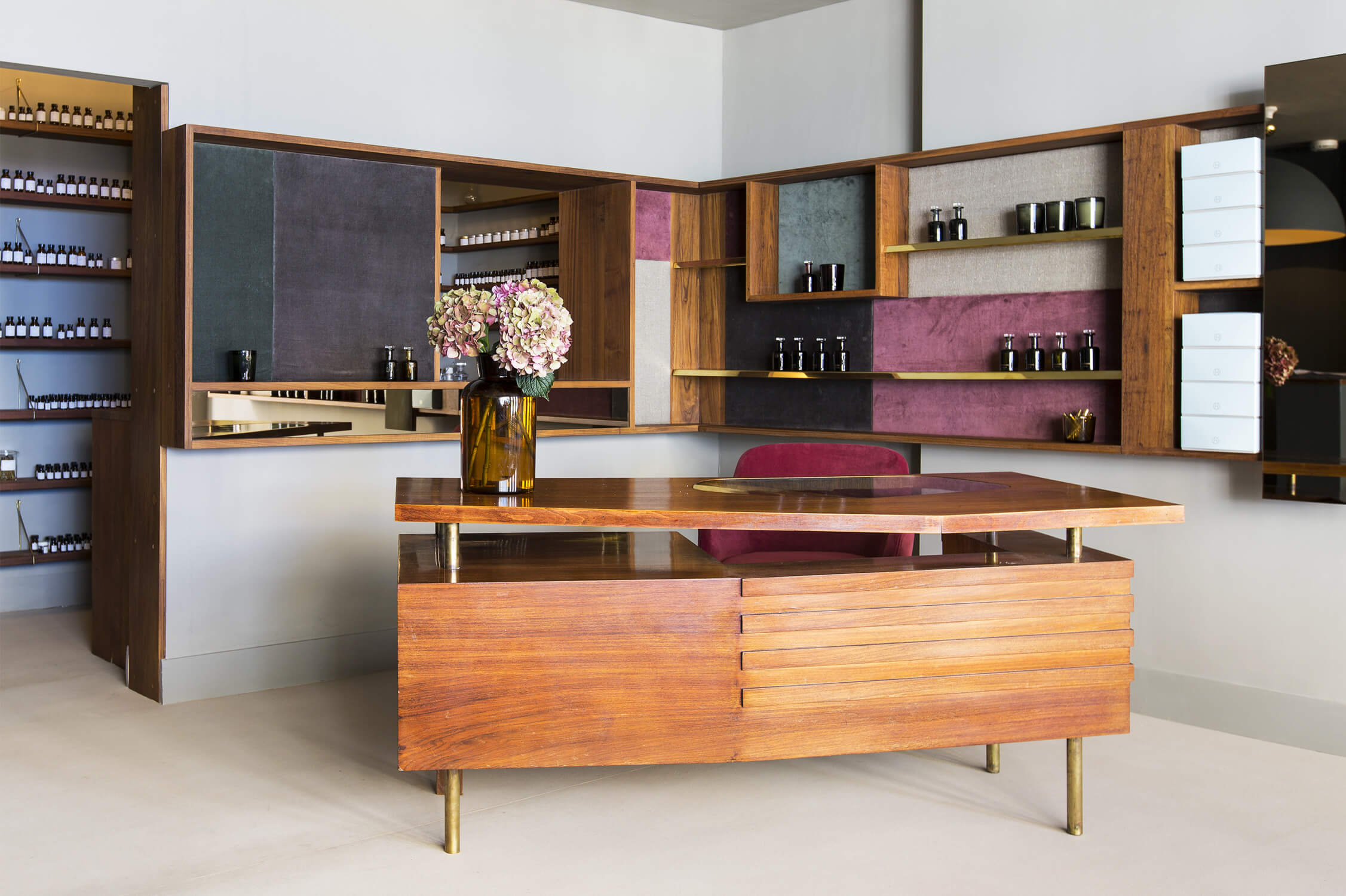 The visionary British perfumer Lyn Harris created the Perfumer H brand as an uncompromising creative platform for expressing for the first time her personal insights into her craft. Classically trained in Paris and Grasse, Lyn draws from her exquisite olfactory sensitivity and inquisitive spirit to make palpable the ineffable qualities of air and the sensory memories it holds.
At the core of the brand's uncompromising approach is Lyn's absolute commitment to close, long-term working collaborations with other master craftspeople in realizing all aspects of design, production, packaging, and presentation. All collaborators work in a highly focused dialogue to articulate the creative vision behind the products, bringing unique insights and refinement into the visual, tactile, and architectural experience of Perfumer H. For our introduction of the brand in Japan, we invite you to experience a sensual universe of one-of-a-kind, personal fragrances made with exactingly selected ingredients.
About Perfumer H
On Crawford Street in the Marylebone area of London, the new laboratory and shop of Perfumer H invite the customer into a multifaceted encounter of the brand's perfumes and scented candles as well as the work process and laboratory of the perfumer. With her Seasonal Editions fragrances, grounded in the citrus, floral, wood, fern, and oriental fragrance families, Lyn forecasts the coming season and creates olfactory landscapes that capture the beautiful scents of life without compromise. Additional Laboratory Editions fragrances are available from the Perfumer H portfolio. Candles extend the brand's philosophy of real and authentically beautiful smells to the home with a line of five fragrances: ivy, dandelion, smoke, fern, and marmalade.

Perfumer H fragrances articulate the vision of a particular human being with all the nuances of a lived, authentic sensory experience. Joining Lyn in articulating this personal vision are her trusted collaborators, or makers: the glass blower, Michael Ruh, who produces the uniquely colored and etched handblown perfume bottles and candle jars that are refillable and reusable; the graphic design house Studio Frith that develops the brand's packaging; and the architectural designers at Retrouvius, who capture Perfumer H's taste and style in their design of the shop and laboratory. These collaborative relationships are fundamental to the creative process and to the brand's realization of the most exquisite quality in all aspects of making and presenting.
Lyn Harris on the Collaboration
For years, I had dreamed of introducing my fragrances in Japan, and as an admirer of Sonya Park and everything she has brought to life with ARTS&SCIENCE, I had also imagined that she would be an ideal collaborator in creating something exciting for the Japanese market. We were eventually introduced by our mutual friend and business colleague Tiina Laakkonen, the celebrated stylist and owner of Tiina the Store in Amagansett, New York. Tiina understood that our two brands and creative visions were aligned and knew we would hit it off, which confirmed all of my instincts.

My collaboration with Sonya began to develop so naturally and spontaneously during our first meeting at my laboratory in London. We chatted about products, the launch, and our common passions. I create for people who inspire me, and Sonya was just that. The special amber perfume bottle for ARTS&SCIENCE came out of our first visit: Sonya caught sight of one of my old laboratory bottles in the basement and loved the color. We decided right away that this would be the inspiration for the perfume bottle we would develop together. The scented woodland candle was inspired by listening to Sonya talk about living in Tokyo, where she craves trees and the natural landscape. Her words, nature and comfort, brought to my mind the clean, green, sensual qualities of Japanese woodland with cedar, juniper, eucalyptus, and cypress – a scent that can carry you away from the city.

The project we have developed since first meeting has come out of my love for Japan – the individuality of the people and their deep sense of politeness, the unique sense of detail in Japanese design and creativity, and the beautiful countryside. I visited Japan for the first time twenty years ago. Although I cannot speak the language, I feel an affinity for the country and people. I also feel a deep appreciation and understanding of my own work, my materials, my love of detail, delicacy, and refinement. I look forward to how these common passions will grow through the collaboration of Perfumer H and ARTS&SCIENCE.


Lyn Harris, Perfumer
Lyn Harris is an unconventional perfumer in endless pursuit to push boundaries and translate through her fragrances the beauty that surrounds.
Her sense of smell was cultivated as a child during long summers spent at her Grandparents' in the Scottish Highlands. They grew berries, fruits and flowers in their walled garden, the house was filled with the fragrant aromas of home baking, jam making and burning log fires. Later in her native Yorkshire, school holidays were spent working at a local perfumery, where the mill owners' wives would swoop to buy the latest fragrant delicacies from France. It was during trips to France she also discovered the great classics of perfumery: Guerlain, Chanel and Patou.
Today, she is considered one of the most respected perfumers in the world, creating fragrances for many renowned international brands.