Journey of Dreams – vol.1
ARTS&SCIENCE with friends
With the advancement of globalization over the past few decades, many of us have become accustomed to traveling around the globe. Now we find ourselves in a moment in which we must suspend this privilege, and yet we all need and want to stay connected, with our dearest ones especially. Nighttime and the space of our dreams are more important than ever and, for many of us, have become the only possible moments for nourishing our connections. These thoughts have led us to an idea for a new project that we would like to share with you.
— A nightwear made to dream in
We have collaborated with our partners around the world to create a line of nightwear that reflects the culture and traditions of the places where the garments are designed and produced. At a time when staying home is the norm, we envision these nightwear items as a way to not only bring joy but also to create a feeling of setting foot in a faraway land that one dreams of visiting again one day.

※Please see the Vol.2 contents here.
Alice Waese — U.S.A
"The pajamas I designed were inspired by dreams. Each piece is printed with my watercolor paintings. The collage of images representing falling into a dreamscape where you find magic, hybrids, monsters and ghosts. My interpretation for this project is an exploration of that subconscious dreamy state in bright colors on cozy washed silk for sleeping and lounging."

【Alice Waese】 Born in Canada. Waese creates her universe of jewelry, paintings, and sculptures in her workshop based in Brooklyn, NY. With a consciousness to materials, she develops her genderless collections. In 2011, Waese published her first collections of paintings "THOSE THAT ARE, A Compendium of Drawings." At ARTS & SCIENCE we present many items from her jewelry collection.
https://www.alicewaese.com/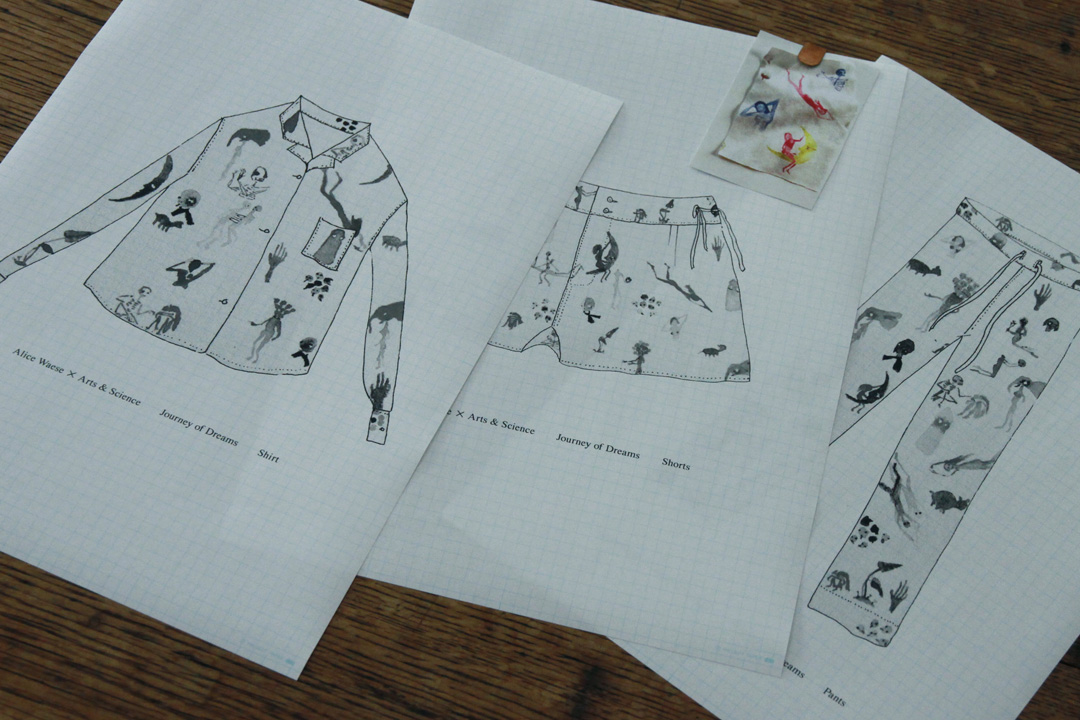 CASEY CASEY — FRANCE
Designer: Gareth Casey (Courtesy of Casey Casey)
"We are currently going through complex times. Now more than ever, we need to surround ourselves with comforting and comfortable things. All we need now is to be able to feel calm, safe and warm in the comfort of our homes. Casey Casey's founder and designer Gareth Casey found his own special place in the Prieuré d'Orsan, a former monastery complex built in the 12th century, in the rural Berry region of France. The pajamas Gareth designed for Journey of Dreams was directly inspired by his life in the Prieuré. They are, typically, the pajamas he sleeps in, cooks in and wears to rest on the sofa and cuddle up with the dogs in front of the fire."

【CASEY CASEY】 CASEY CASEY is a French brand established in Paris in 2008 by Gareth Casey. A real craftsman, Gareth experiments and uses unique techniques on the clothes he designs in his Paris atelier. As a result, his hand-dyed, hand-finished garments look as if they havebeen cherished and worn for a long time - anaesthetics that characterises the brand. At ARTS & Science, we present their season collections and have also produced collaborative items together in the past.
https://www.instagram.com/caseycasey_paris/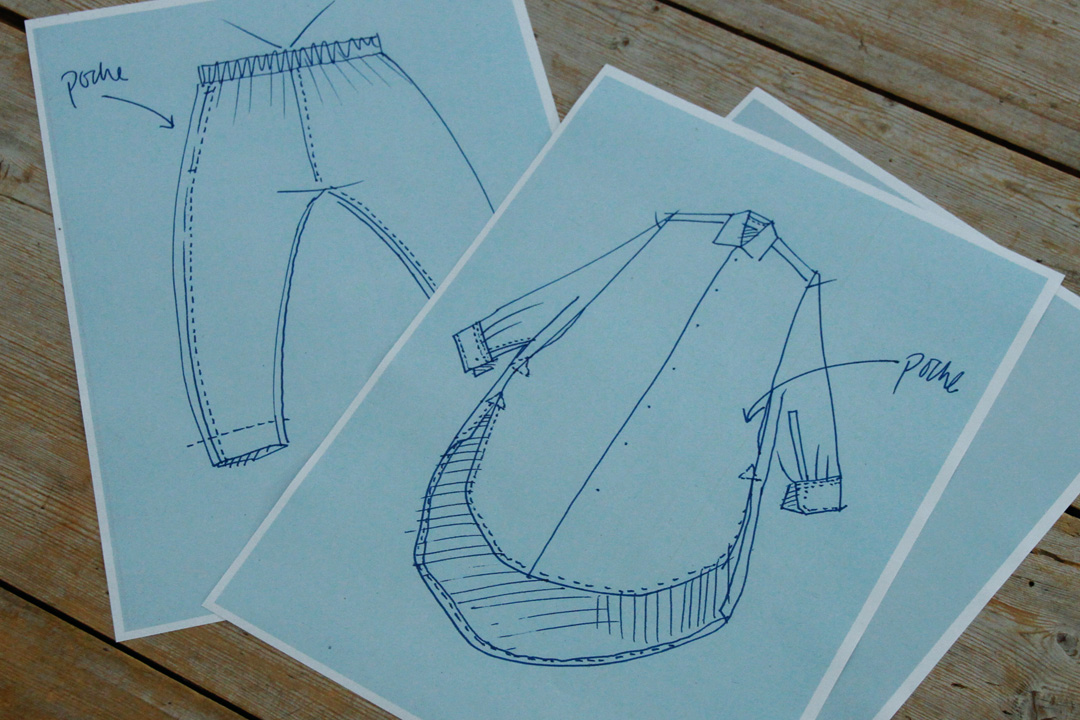 r a s a i — INDIA
Designer: Asami Nagashima Sarabhai
"When A&S' proposal of "Journey of Dreams" arrived, I tried to first imagine what most of the population in India actually wear at night. I had seen some women in the old city where more of a traditional lifestyle is observed, go about their morning chores wearing loose long dresses 'nighties,' and city youths simply wear T-shirts & Pants, while many in the rural area wear the same traditional day clothes (such as kurta or sari) at night. I realized the concept of nightwear is an ambiguous one in such a culturally diverse country, and so decided to focus on comfort, as well as flexibility of age, gender and occasion.
We have made a very simple, light pajama set with 2 layers of soft Indian Mulmul fabric (popularly referred to as the 'woven wind') quilted to trap the air, giving cozy insulation. The spacing of the quilting was taken larger than our regular scale to be able to appreciate more uninterrupted area of the soft fabric. It is reversible, and one can wear them indoors or out, day or night, depending on the mood. You can carry it with you in the ultra-light matching Mulmul bag - when you and the world are ready again for adventures... Maybe a cozy picnic in the Living room :-)"

【r a s a i】 Founded in India in 1996, 'asiam studio' has established itself as a company which designs, develops and produces high quality textile products in a manner that is sensitive to people & environment. Its clothing & home-item label ' r a s a i ' was re-launched in 2018 by Sarabhai, and its name is derived from soft hand-stitched bed quilt treasured in India during the winter months. 'r a s a i' is inspired by the possibilities a quilt holds - often being reversible, made for all ages, sizes, genders and cultures - and hopes to create products which will weather gracefully over time. ARTS & SCIENCE presents various pieces from ' r a s a i ' in a season-less cycle.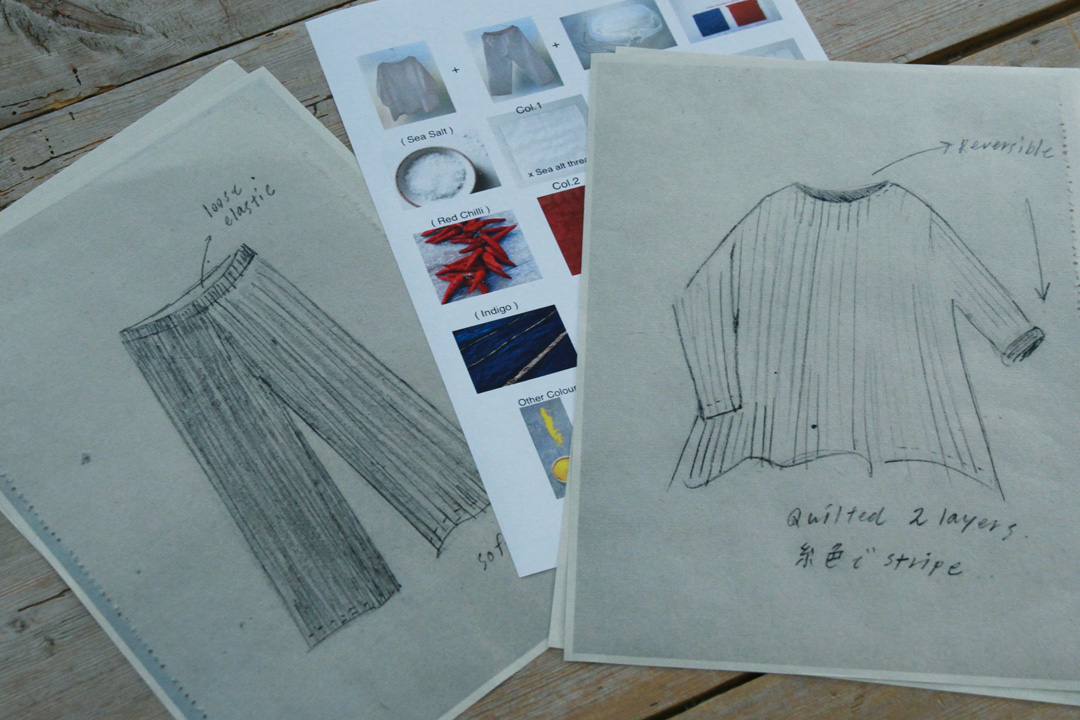 TOOGOOD — ENGLAND
Designer: Erica Toogood, Faye Toogood
"In this time of the pandemic, we are living more domestic lives, focusing on the home and taking on more roles ourselves - of the cook, the teacher, the baker, the hairdresser, the courier etc. Household fixing and jobs have come to the fore and we now have time to approach them. Our new work patterns invite conversations into each other's homes and domestic and work life entwine. We need clothing that is soft and relaxed as daytime moves into nighttime and work life into home life. The Toogood pajamas are called the Electrician Overall; like all Toogood garments it's named after a trade. The Electrician Overall is very comfortable and practical to wear, allowing you to meditate, relax, sleep or work."

【TOOGOOD】 Toogood is a London-based design studio established in 2008 by Faye Toogood. Her practice encompasses interior design, homewares, fine art and fashion. The Toogood fashion collection was co-founded by Faye and her sister Erica Toogood in 2013. Together they create clothes that are both practical and sculptural for men and women of all ages. The clothing is instilled with the unmistakable spirit of both sisters: Faye's preoccupation with materiality and Erica's audacious shape-making. At ARTS & SCIENCE we have collaborated with Toogood on installations in our stores, and every season we present their new collections.
https://t-o-o-g-o-o-d.com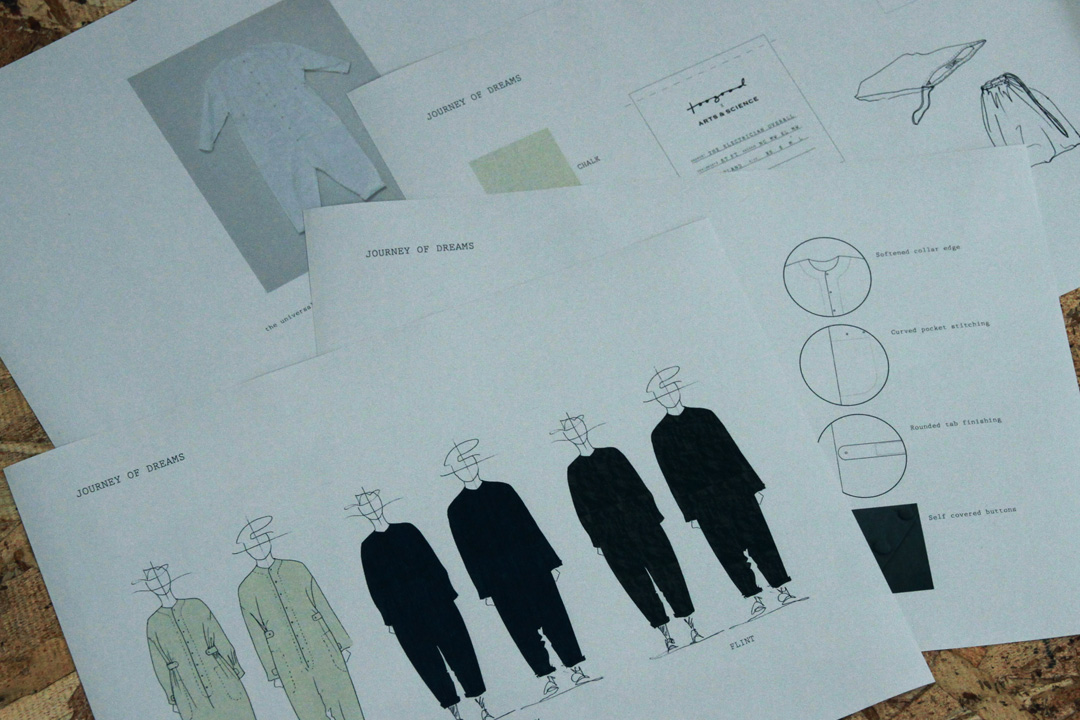 ZANINI — ITALY
Designer: Marco Zanini (©Tommaso Gesuato)
"When I received the request from Arts&Science I immediately started to think about something very classic and timeless. I started to imagine a style that could potentially be good for both women and men; something that could be easy and comfortable to wear, but yet stylish and sophisticated at the same time! I understood that a traditional looking men's nightshirt like the fabulous ones they sell in Place Vendôme at Charvet could be just perfect. I wanted to pick a luxurious fabric that could be easy to wear: hence the most gorgeous English cotton jacquard used for formal shirts had to be the fabric. Last, but not least, white had to be my colour of choice because there's nothing more elegant and timeless. This is how Zanini's nightshirt for A&S was born!"

【ZANINI】 Marco Zanini was born to a family of an Italian father and a Swedish mother in 1971 and grew up in Milan. In 2009, he became the head of the prêt-à-porter department at ROCHAS. In 2013, he became the creative director of Schiaparelli. In 2017, Zanini presented a collaboration with Santoni. He is known for his various works.
https://www.instagram.com/zaninicollection/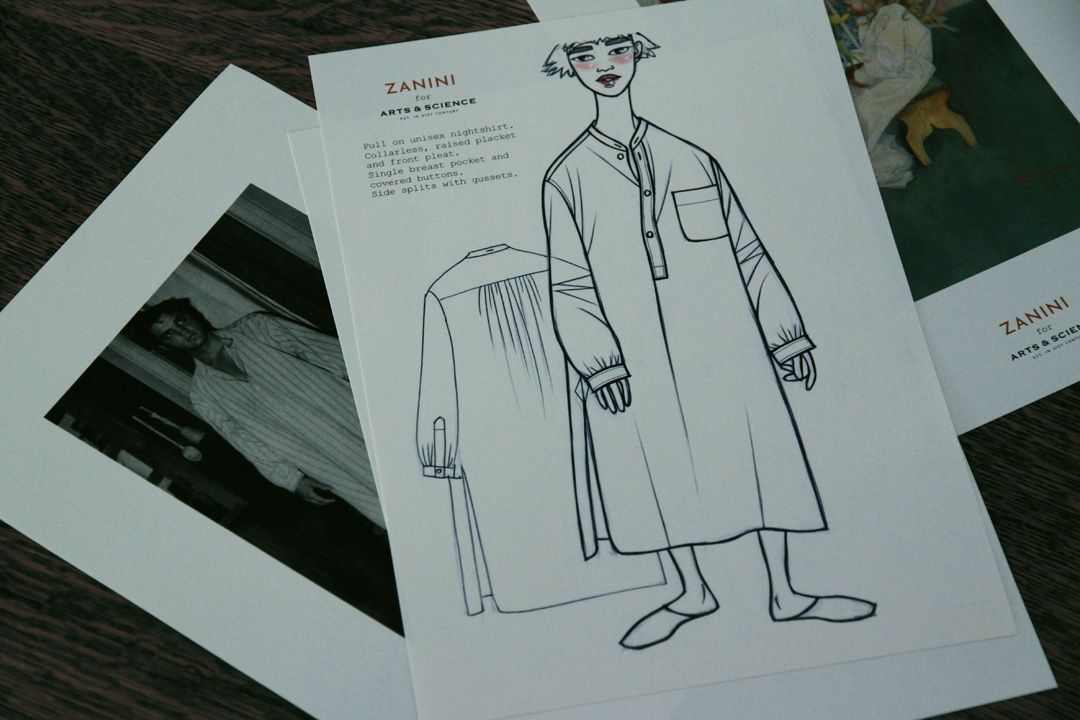 and more...
All items will be available from November 20th (Friday) at ARTS & SCIENCE's online shop   and a selection of our flagship shops. We will continue our updates on the details through our website and SNS pages.
In our "Journey of Dreams" project, in addition to the five brands introduced on this page, we also have news of releases from other partners that will participate with a different approach. Please look forward to these future announcements.
INFORMATION
TITLE

Journey of Dreams

DATE

Fri. 20th November, 2020

ONLINE