Alice Waese Trunk Show "Blue"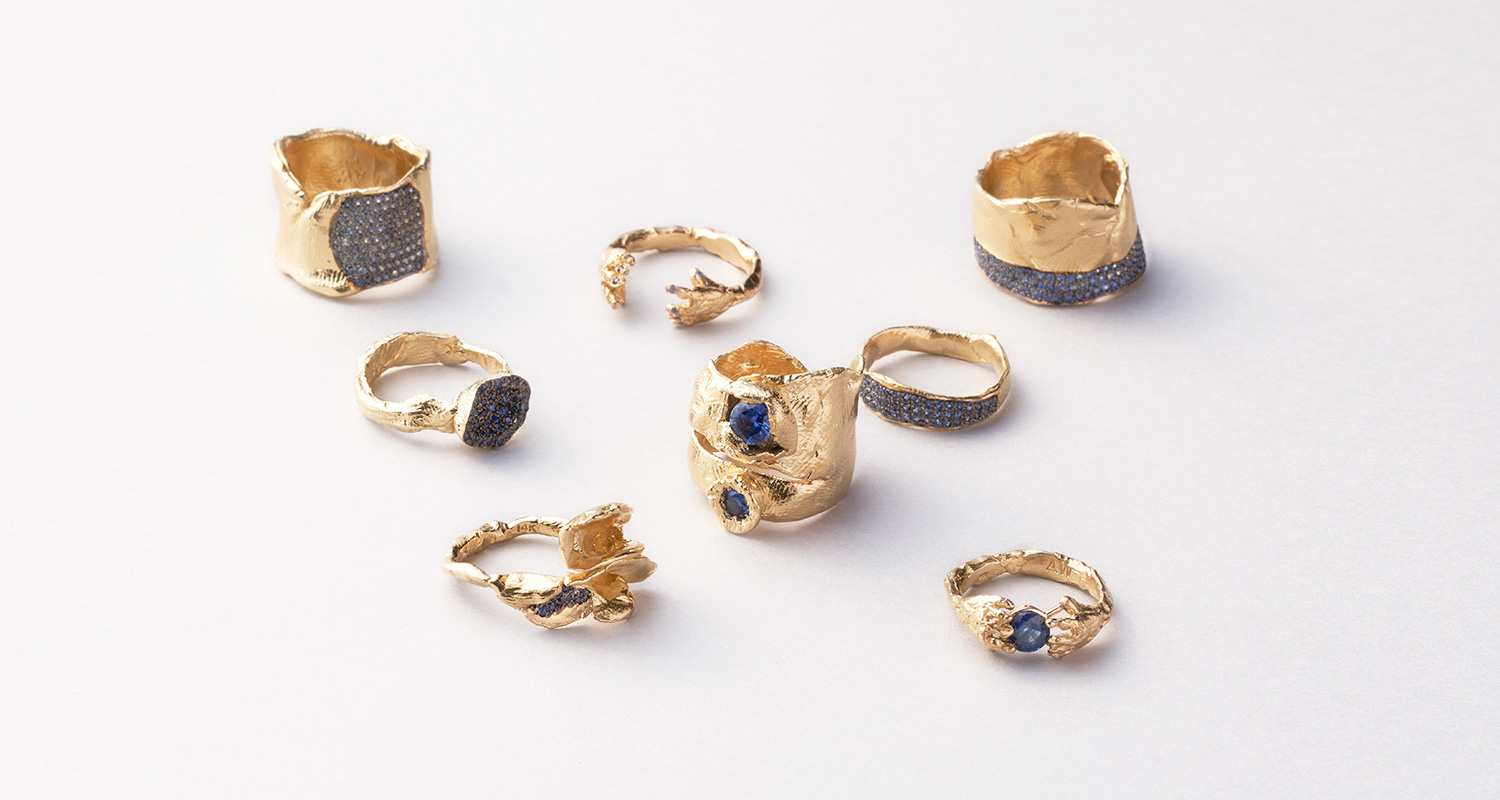 Artist and designer Alice Waese is based in Brooklyn, New York. Her wide range of creative activities include drawing, clothing design, and jewelry making. A&S Aoyama is delighted to present her first jewelry trunk show on Friday, February 5th.

The presentation will feature Waese's Blue Collection in which she works with gold and sapphires of various shapes and sizes to evoke the contrasting characteristics of earth and sky. A diverse selection of other new works will also be presented to compliment the Blue Collection and give a broader view into Waese's multifaceted artistic vision.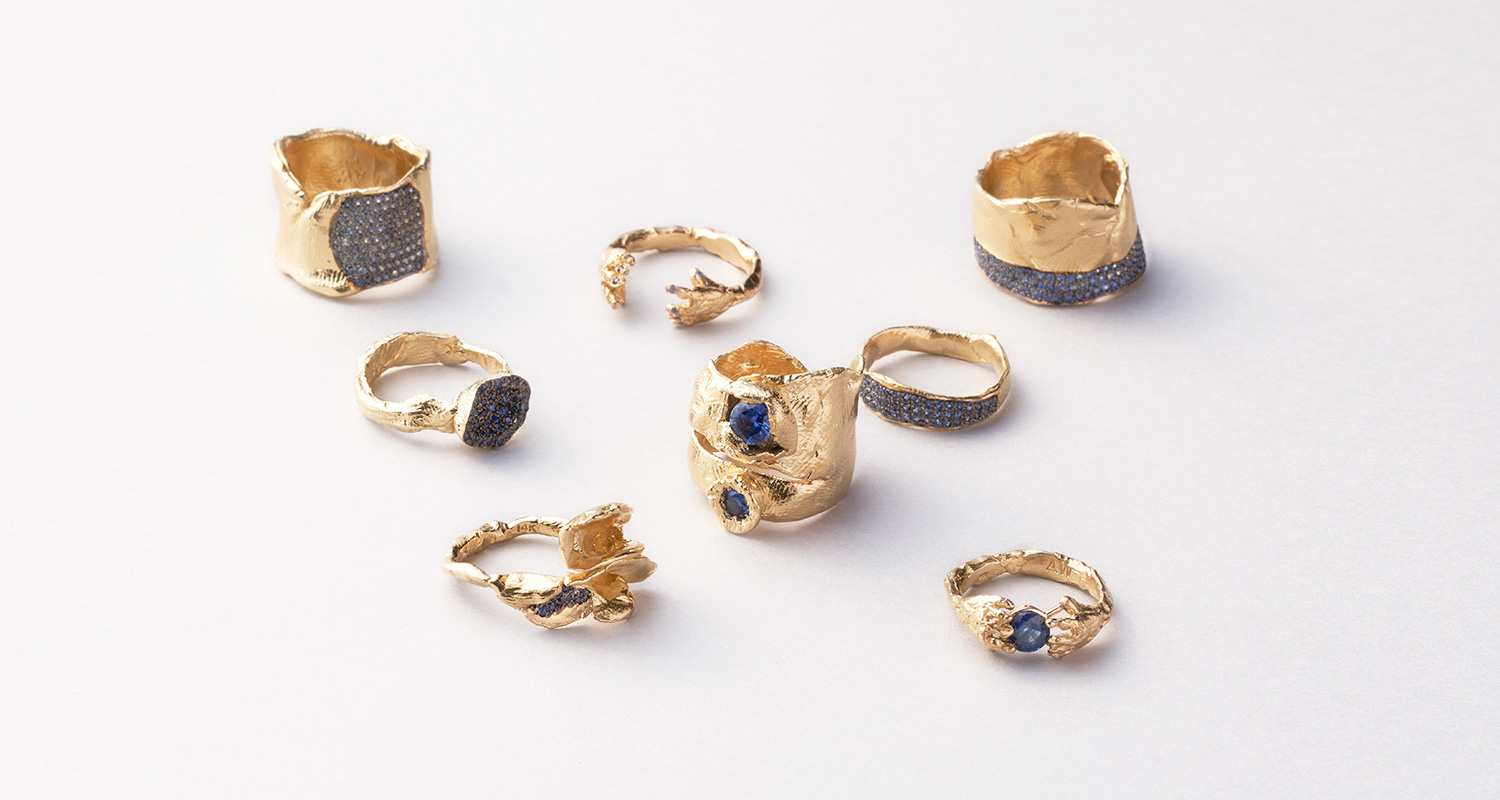 Alice Waese's history
Alice Waese was born in Riverdale, Toronto. Influenced by her father, an artist, and her stepmother, a milliner, she grew up emersed in an environment that revolved around the arts and crafts. After studing at the International Academy of Arts in Toronto, she began her work initially in fashion and relocated to New York, where she broadened her understanding of design and branding over several years as design assistant for Maria Cornejo. With growing questions about the production practices of the fashion industry, Waese took a turn toward fine art and enrolled at Goldsmiths, University of London, where her passion for sculpture flourished.

Waese's work springs from the diversity of her creative history, encompassing sculpture, jewelry, drawing, and fashion. Finding inspiration in nature, art, poetry, and travel, her attention often alights on the simple, natural elements of her surroundings such as shells and parts of flowers, which she transforms into organic and sometimes contorted sculptural forms. Her jewelry production begins with drawing and incorporates sculptural techniques such as casting. The meticulous work method is direct and honest, embracing and preserving the marks of her hands-on process, even fingerprints. The pieces appeal on a personal level as works of wearable art that expresses the utterly unique viewpoint of the maker.

A&S director Sonya Park was first attracted to Waese's drawings and has featured her silver jewelry and clothing collection at A&S since 2013. In 2018, Waese's jewelry collection expanded into gold and precious stones, including the sapphire-focused Blue Collection that we are introducing with this trunk show.
Quotes from Alice Waese
Q: Can you tell us about your interest in sapphires with the current collection?

I was drawn to the watery blue color of the stone in contrast with the richness of the gold. The stones have a reflective quality that balances the earthy texture of the metal. For me, this combination feels reminiscent of the ocean and the sand, or the blue sky and the sun.
Q: What is typically your work process with your jewelry?

In terms of inspiration and process, I usually start by making paintings – playing with colors and then designing forms. I move on to molding wax with my hands, often draping it around the body. The waxes are then turned into molds from which the gold is cast. Then I select and set the stones.
Q: Will you share your thoughts with us about the significance of your first trunk show in Japan?

It is an honor to have my work exhibited in Japan at Arts & Science. I have long been inspired by the work that comes out of Japan: the aesthetic and creativity as well as the artistic commitment to craftsmanship. I am humbled to introduce my work in this context.
Alice Waese
Canadian designer and artist Alice Waese has created an interconnected world of jewelry, clothing, paintings, and sculptures in her workshop in Brooklyn, New York. Her genderless collections spring from her intensive exploration of the physical and aesthetic characteristics of materials and show the visible traces of her personal, hands-on work process. Waese published her first book of drawings, Those That Are: A Compendium of Drawings, in 2011.
Her work has been featured at A&S since 2013, and she developed a special contribution for our JOURNEY OF DREAMS project in 2020. 

https://www.alicewaese.com/
INFORMATION
TITLE

Alice Waese Trunk Show "Blue"

DATE

Fri. 5th February, 2021

SHOP