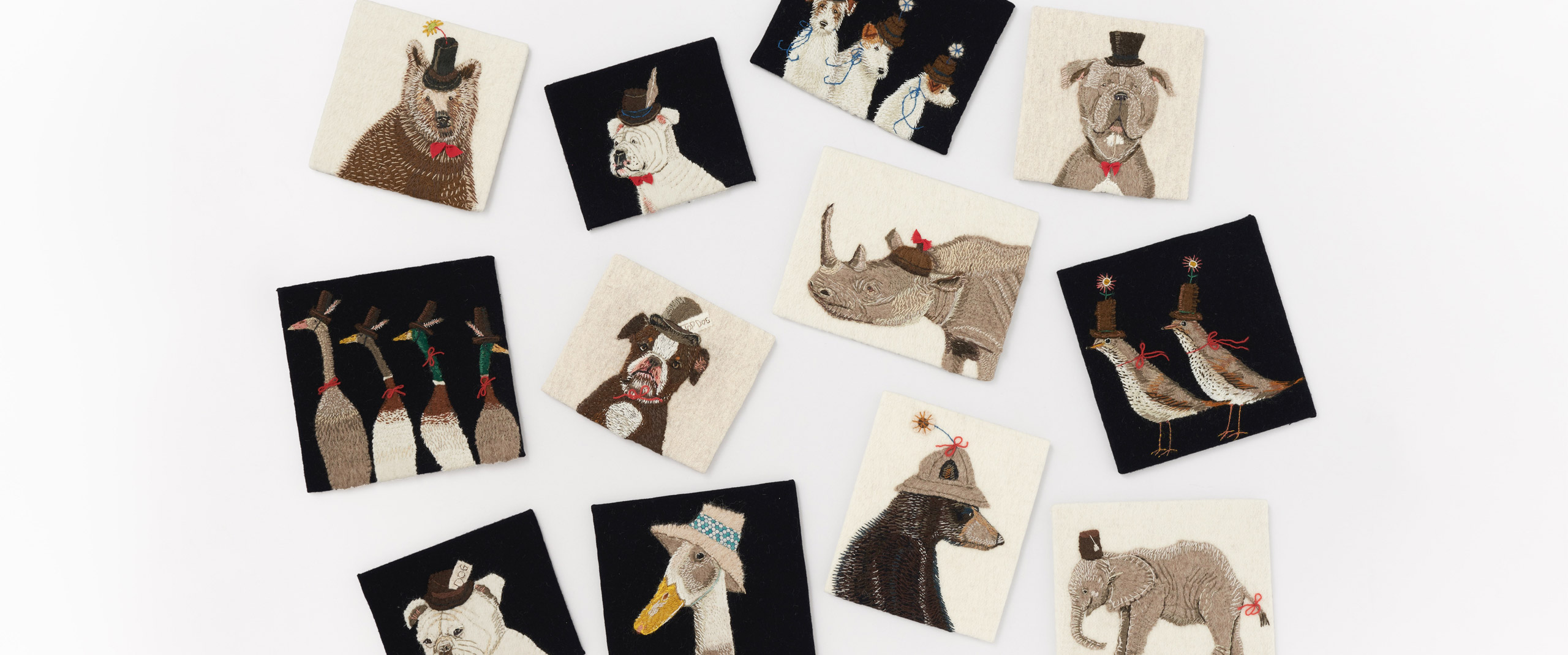 Blind auction 2021
Featuring Domenica More Gordon's stitched animal portraits for A&S
Every year, Domenica More Gordon brings color and character to the A&S holiday season, and this year is no exception. Her beloved dogs have charmed their way into numerous projects, including the animations on our official website. Now direct from Scotland, a special feature of the 2021 season has arrived: Gordon has created a series of hand-stitched portraits of animals. A total of twelve works, each unique, will be sold on our blind auction platform.

Warm, cozy, and asking to be touched, the portraits are made with original Arts & Science cashmere and wool. Each is a pure expression of Gordon's vision, stitched with the freedom and fluidity of her illustrations on paper.

The official bidding period will open on December 1st on this webpage.
The works will be featured in a traveling show, viewable in person at A&S shops:

November 19th – 21st SHOES and THINGS
November 26th – 28th  A&S FUKUOKA
December 3rd – 5th  &SHOP KYOTO

Our annual presentation of new printed scarves and bandanas from Domenica Moore Gordon continues, this year complimented by a second special A&S project featuring glass paperweights and trays realized in collaboration with John Derian. These items are now available on our A&S Online Seller.

※The bidding window is now closed. The winning bidders will be notified by email on December 8th. Thank you for your patience.

from Domenica More Gordon
Animal portraits.
I am always drawing and making animals, not just because I love them, but because they bring me such joy.
These portraits are made from the same fabrics used in Arts & Science's collections, and I have stitched them much in the same way as I use a pencil in my sketch book.
Whenever I see animals or birds, I want to touch them, stroke them, and hold them. I very much want people to feel free to do the same with these portraits.
Profile
Born in Scotland, Domenica Moore Gordon is an illustrator and textile designer. After studying at Central Saint Martins – University of the Arts London and working as a stylist for numerous magazines, Gordon returned to Scotland and began to make works in felt for her own children. These unique, realistic, and heartwarming figures quickly attracted interest among galleries and celebrities.
www.domenicamoregordon.com